Stainless Restorations
Dont Replace it … Restore it!
Save Time, Save Money, Save The Environment!
With more then 15 years of cleaning the biggest and dirtiest pieces of stainless steel in any bathroom 'The Men's Urinal' we are sure that almost anything can be made to shine again.
Many of the latest and best selling fixtures are built for style not function. Smaller designs and hard to reach corners make for a much harder cleaning environment leading to more costly scheduled maintenance.
Our stainless steel restoration services are available to hotels, pubs, clubs, restaurants, hospitals, aged-care, schools, learning centres, public parks, event centres, airports, govt bodies, businesses etc.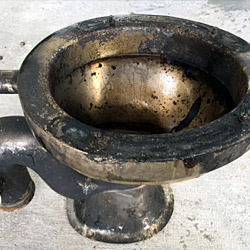 Get A Free Consultation & Estimate
Contact us regarding your stainless steel restoration and cleaning requirements – Email: theurinalshop@gmail.com